Polki is an uncut and unpolished diamond which is often retained in its original form without any physical or chemical treatment and originated from India. Polki's are generally cut to follow the original structure of the stone, that's why each piece is unique and distinctive from the other.
Jadau Jewellery is a traditional form of jewellery that got its name from Mughals for its exquisite craftsmanship and rich heritage which has been practised in western states of India since Mughal rule and are often worn during the wedding, special occasions and events.
Weddings and Jadau Jewellery are a marriage made in heaven. Polki Jewellery adds to the glamour side of the wedding, which is worn by brides making them the happiest on their special day.

1.Maharani Style Choker
Well, it would be a dream for a Bride who is having a Royal Rajasthani Wedding to adorn her bridal attire with Maharani Style Choker. This Jadau Choker is inspired by the royal style and traditional motives with three precious beautiful gemstones emerald, ruby and pearls giving it a loud royal traditional shade for the Bride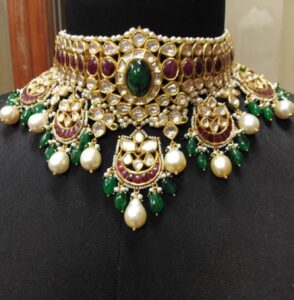 2.Pink Floral Bridal Choker
Pastel & Flowers is a paradise in itself. Pastel theme wedding is a whole new different world where the entire wedding is dominated by beautiful shades of pastel colours and flowers. Where the bride's attire is decorated with flowers and soothing colours making her look like a fairy in her fairytale wedding. With this theme and attire pink floral designed jadau choker is the best a bride could choose with a long layered polka necklace. This choker is made keeping in mind the floral designs with pink tourmaline gemstone and pearls giving it a minimalist look of colours keeping in mind the theme of the wedding.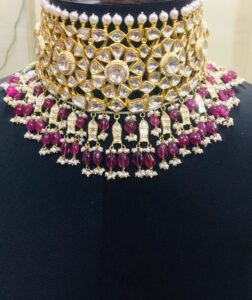 3.The Timeless Wedding Necklace
Jadau Jewellery is known for its timeless and classic style. This kind of jewellery will never be out of trend, it's been there in India since the Mughals and is now being popular in other parts of the world too. When it comes to weddings Jadau will always be the bride's choice. But there is one jadau necklace design which is your go-to timeless wedding necklace and can go with any bridal attire. Well, it's a traditional motif designed with Emeralds and pearls, this combination can never go wrong whether it is your wedding or someone else's.

4.Classic White Wedding necklace

A classic white wedding is a combination of whites, beige and neutrals just making it soothing and calm filled with happiness and love. When the bride's attire is white how can a classic contemporary designed necklace go showcasing uncut diamond's beauty? This style of necklace can be worn 2 ways by detaching the second layer of the necklace, with that you can have two pieces instead of 1.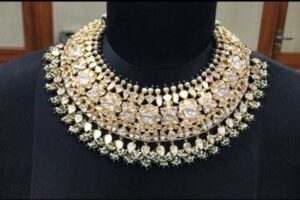 5.Lotus Enamel choker
Enamelling is known as meenakari which is done on the backside of the jadau jewellery and was practised during the Mughals time, meenakari is the art of painting motifs by engraving and filled with colours. The Lotus Enamel choker is a very unique design where the lotus meenakari is also done on the front part with polka. This necklace is different from all the other wedding necklaces, be it its motif, style or enamelling. Brides often layer this with a simple long necklace to give it an aesthetic look. As we all know all jewellery has its style and design which is unique in itself.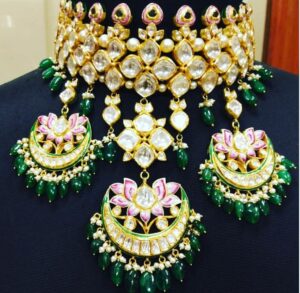 6.Contempo Necklace Pendant
Well beautiful meenakari, polki and gemstones are the best combinations one could find. This style is more modern with more gemstone and dominating meenakari. It's a long necklace pendant with three parts, highlighting the meenakari and gemstones with a minimal polka design. It's a colourful necklace which could go with neutrals and subtle shade attire.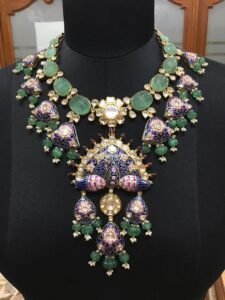 7.Big Polki necklace

Uncut diamonds varied in different shapes, small medium and big. This choker is made of big polki's and big emerald gemstone making it a loud, heavy and beautiful piece. Few of them prefer small polkis and few big ones and other few prefer a combination of both. This necklace can be your wedding choice or can also be your go-to piece. Polki paired up emeralds is a combination that can never go wrong.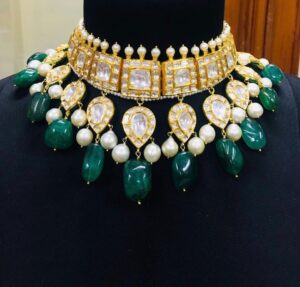 8.The Luxe Necklace
Well Jadao Jewellery is a luxe in itself, but this particular necklace is just filled with beauty,luxe and style. This style of necklace can be worn 2 ways by detaching the second layer of the necklace, with that you can have two pieces instead of 1. Its a layered necklace with emeralds and contempo-traditional design.

9.Rani-styled wedding necklace
Jadau has its origin from the Mughals and was often worn by rani during that time daily. This type of choker is a stiff style covering the entire neck. It's a heavily styled piece which does not require any other layering of jewels. Brides could pair this choker with red and maroon colored attire.
Well what do you think about Jadau Jewellery and wedding, Nowadays jadau jewellery has started to adopt minimal style, a lot of designers and jewellers are making it into simple and minimal jewellery which can be worn every day or also during simple occasions. Check out my next blog to know more.