Well well well from where do I even start, this year's Met Gala was all about paying tribute to Karl Lagerfeld & reminiscing about what was created by him. The late designer's artistic brilliance is well-known & preserved in the world of fashion. 
Met Gala is the fashion's biggest night out event of the year known globally and attended by stars, creatives & industry paragons this year's 2023 theme was honouring Karl Lagerfeld – A line of beauty who was also a regular attendee at the Met.
Let's just dig into the glam night more I mean we could say we spotted some amazing looks and let's not forget about seeing more & more vintage & archive Chanel.
Being a Jewelry & Fashion person my attention always gets to the detailing and I love how these events set statements & trends in the world of fashion. To be honest pictures and videos on socials just do not do justice to the looks of the Met. I would not criticize but some looks did not do great as others.
If we think about Karl and the theme then we could spot a lot of Pearls, bows, the classic black and white combo, the ponytail style hairdo, diamonds, vintage Chanel, bridal attire, 3d florals & of course cat bags or you could say cat!! I am here to talk about Jewelry moments that just shut down the red carpet and could be setting the next-in-line trends!!
9 Looks & Jewelry Moment Of Met Gala
1.Dua Lipa
Dua Lipa was the actual definition of elegance, her dress from a vintage Chanel FW1992 original bride dress was just dreamy & the pockets are such a modern add-on and the 119-carat diamond pendant wrapped around her neck from the long-standing history of Tiffany & co. made her way of making MET GALA 2023 statement 
2. Priyanka Chopra
Priyanka s Maison Valentino's black and white combo dress with a bow was just the perfect tribute to Karl, her chic and classy dress for Met had a shiny add-on from bespoke Bulgari featuring an extraordinary vintage blue diamond from 1970. This 11.6-carat vintage Bulgari Laguna blue diamond is the largest used by the Bulgari jewel.
3. Doja Cat
Doja cat was dressed as Karl Lagerfeld's legendary cat, Choupette, her costume dress was from Oscar de larenta topping off a diamond headband from Messika jewellers, as well as a diamond bracelet, rings, and an armband by the Parisian jeweller.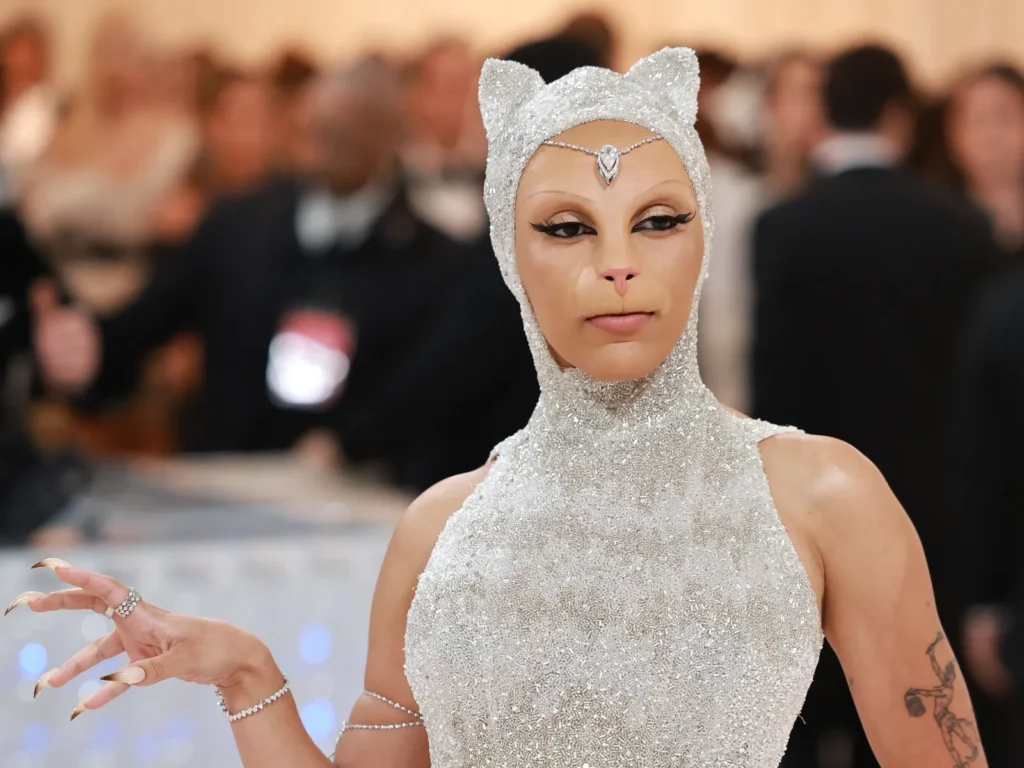 4. Anne Hathway
I would call her white Angel I mean her custom atelier Versace gown inspired by vintage Chanel Versace bride with embellishments combining pearls from Karl's Chanel collection with Versace signatures including medusa safety pins. I mean talking about the detailing of the gown and the antique-style jewellery from Bulgari was breathtaking. Talk about fusing past and present style – Ancient coins & modern jewels, Anne picked out one of the finest pieces from the Bulgari Monete collection paying homage to Rome's fantastic history. Ancient coins, pearls and diamonds are the highlight of Anne's look.
5. Cardi B
Cardi B's red carpet look was classic Tribute Karl, Her 3d floral black gown from Chenpeng studio is only a testimony of pure craftsmanship and talk about the statement earrings with pearls & crystals from Laurel dewitt is setting the statement this season!!
6. Ava Max
Why is no one talking about her look for the night I mean her entire white look created with pearls and diamonds is just so inspirational, from her headgear to her gown from Christian Siriano with her gorgeous gorgeous jewels from the spoiled boutique store everything is so breathtaking
7. Penelope Cruz
Penelope Cruz was way too stunning for the night, her vintage-inspired bridal Chanel with sequins and glam is just magical like, talk about the headgear bridal-like style with simple diamond earrings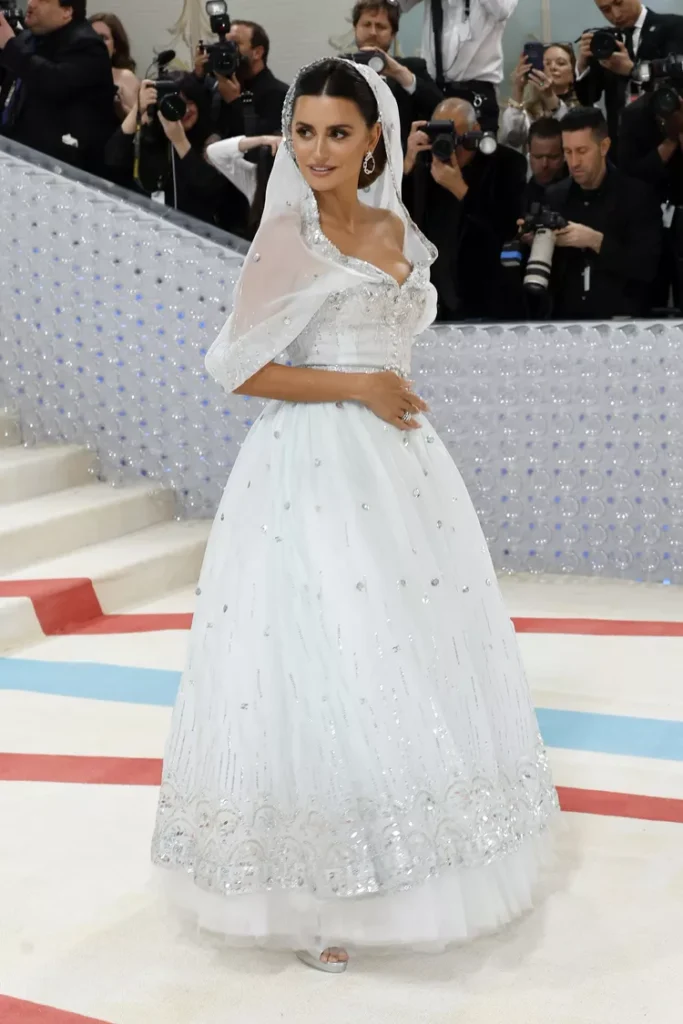 8. Sydney Sweeney
Talk about going with floral crystals nude colour palette gown from MIUMIU topping it off with diamond earrings and the perfect black chiffon bow tied to her elegant hairstyle.
9. Salma Hayek
Salma just created a statement on the red carpet by being in a Red Gucci gown with red 3d florals decorated on her pleated her with a touch of elegance on her 3-line pearl sleeve. Oh, I loved how glossy the red gown was with the highlight of pearl sleeves and diamond jewellery.
Do Follow Ruchika Baid for Part 2